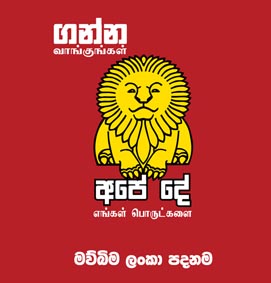 Ganna Ape De is the moto and SuryaSingha is the logo of Mawbima Lanka Padanama, a nonprofit earning Peoples Voluntary organization. Popularizing locally manufactured products among the Sri Lankan Consumers and encourage to boosting the volumes of sales of local brands as oppose to imported items, which will in turn help to improve the economy of the country and thereby raised the standards of living of the general masses of the country.
Accreditation is a status awarded to organizations and product brands as well, complies with general and specific organization standards stipulated by Mawbima Lanka Padanama.
Ganna Ape De and SuryaSingha Logo, is the symbol of local brands of a formidable National Economy which will be offered to all accredited organizations and brands in order to differentiate their brands from the imported and multinational brands. SuryaSingha Logo itself is a brand which will enhance the existing brand value of a truly Local brand.
The accredited companies and products have the access to make use of the Ganna Ape De and the SuryaSingha Logo as a tool for their advertising campaign and awareness programms .In addition the foundation itself continually conducts effective Conversing programmers on behalf of the accreditors through printed and electronic media and via large hoardings exhibited all over the island, sticker campaigns, discussions etc.
Ganna Ape De and SuryaSingha Logo will be awarded to companies or products only after a strict evaluation process. Evaluation committee will be comprised of experts in the relevant fields including representatives from Ministry of Industries and Strategic Management. Agency It has to satisfy that the applicant, the company or the product or both conform to the stipulated standards prior to submit its recommendation to the foundation. The committee will take into consideration the environmental norms, occupational health requirements etc as well, at the stage of evaluation. Advertising and public relation campaign and other forms of grass root level promotional activities will be implemented continuously to promote the logo and there by popularize local products. This promotional campaign will be based on the concept of patriotic marketing which will add an emotional value to the purchasing decision.
Apart from above advantages, being recognized as a SuryaSingha logo holder truly Sri Lanka brand among consumers also reaps the benefits such as entitlement for "Annual Ape De Awards, Assistance and guidance from industrial and marketing specialists, accese to masked information, support of experienced negotiators to resolve labour issues and above all lobbying in the interests of local industries